About these Pianists & Keyboardists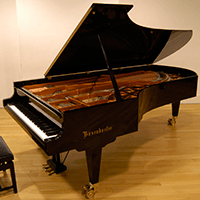 Finding the right entertainment for your event can be difficult when there are so many different kinds of musicians and bands to choose from. For those organising weddings or corporate events, a professional pianist may suit the occasion extremely well.
Creating a stylish and sophisticated atmosphere, pianists are ideal for those who are looking for a musician to supply background music whilst their guests chat or enjoy a meal. When considering their repertoire for an event, many pianists choose to play jazz standards as this fits well with most audiences and is particularly popular at corporate dinners. However most professional pianists also have a good knowledge of hits ranging from the past 50 years of popular music and will take requests to learn specific songs if given enough notice.
When booking a live musician it's important you make sure they have public liability insurance and that their equipment has recently been PAT tested. These are both extremely important and protect both the musician and the audience if potential accidents were to occur. Before booking your pianist, you should also listen to live recordings and read through testimonials from previous clients so you can determine whether they would be suitable for your event. Upon booking your pianist, you will be made aware of their technical rider, a list of requirements they need so they can perform. This often includes suitable parking, refreshments, a changing room, and at least one power socket near the performance area. It's also important to discuss how and when you'll be paying your pianist as confusion could potentially ruin your occasion.
By booking a live musician to perform at your event you will be enhancing the event and you're guests are sure to be tapping their feet and enjoying themselves. Live music can also work as a great icebreaker between guests who have yet to meet. A professional pianist could be the perfect addition to your special day.
The Pianists & Keyboardists featured on this page are all members of the LastMinuteMusicians.com entertainment directory. Use the box at the top of this page to find local piano player close to you. Simply choose a county or enter a post code into the "available in" box to refine the listings to your local area. Click the "go to profile" button to see the full profiles of the individual wedding pianists. With over 2000 active listings you are sure to find the perfect entertainer, musician, band or entertainment service to make your event just perfect. Don`t forget you can use our online chat (below) to get instant help with your booking.